[Scroll down for LEGO for Sale]
My interest in LEGO (TM/Copyright held by the Lego Corp.) began when a LEGO shop opened in our local shopping centre in 2021. I was drawn to the more complex sets, particularly the Lego Expert and Lego Technic sets. I have bought a few, and as I posted progress on Facebook, others shared their interest as well. One close friend has lots of Lego, but no longer has the passion to build. She has asked me to organise. build, and sell her collection for a fair price. This project has now completed, and most Lego has been sold.
I prefer to sell the sets built, and to be collected from Dover Gardens, Adelaide, Australia, but I can dismantle the models and post to Australian addresses at buyer's cost. For a bit extra, and subject to a security assessment, I am willing to deliver within an hour of Adelaide.
I need payment by cash at pick-up please, or to my bank account or to Paypal in advance. You can contact me at This email address is being protected from spambots. You need JavaScript enabled to view it., or via the contact forms on this site, for more info. If responding to a Facebook Marketplace posting, you can also DM me from there. You can see who I am elsewhere on this website, and you can easily find me on Facebook and LinkedIn. If you don't trust me to deal with you honestly, please don't bother to start a sale. Lego is a great past-time, and I very much enjoy the fun, challenge and mental stimulation of building and re-building.
I will offer a mug of Nespresso cappuccino to anyone who can collect from Dover Gardens (sorry but the mug has to stay here!).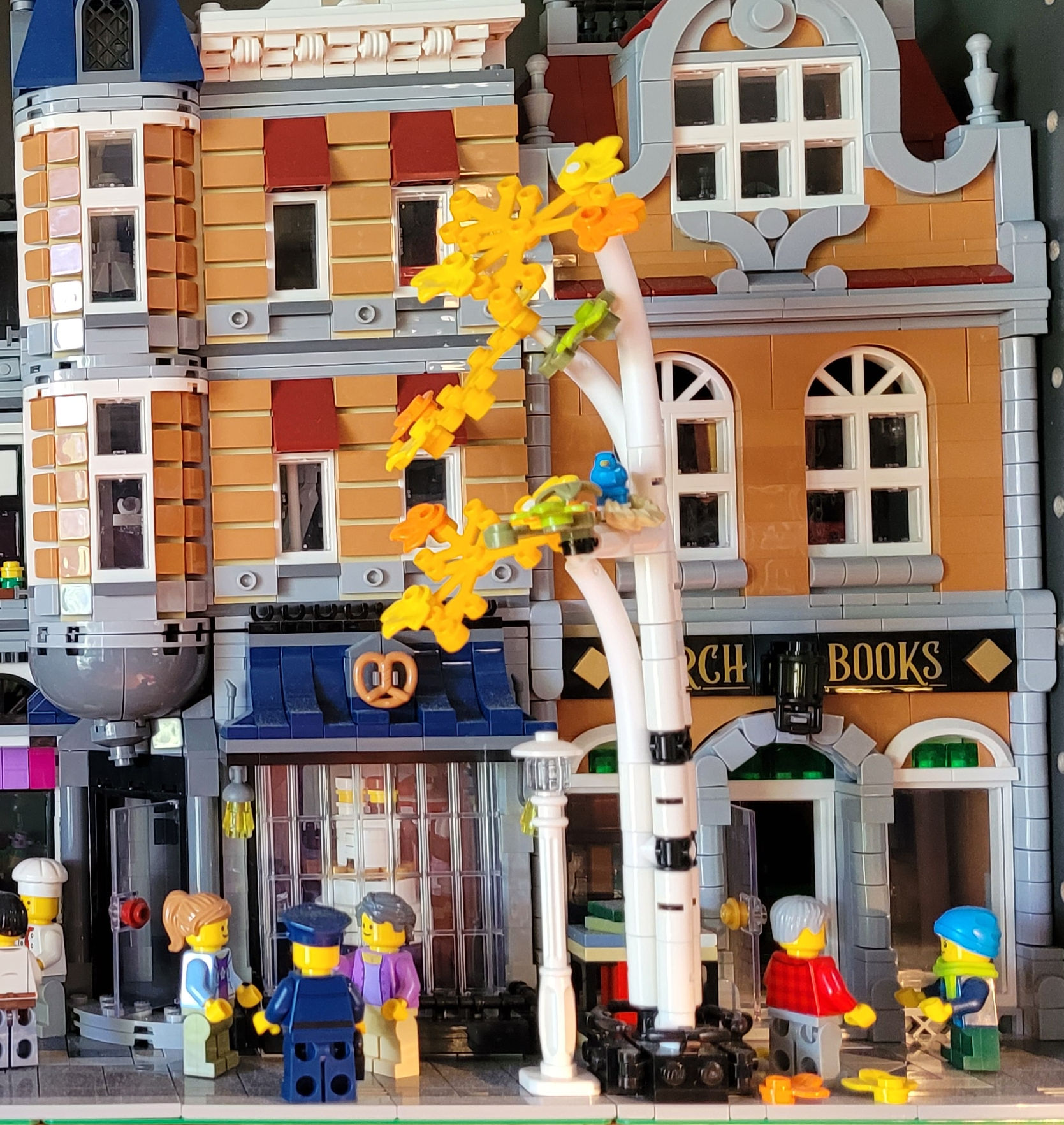 Top photo:  Lego Town Square, the Bookshop, and a bit of the Corner Garage (my sets). 
Photo above: busy community in the Town Square.
Photo above right: Town Square Bakery and the Bookshop.
---
LEGO for Sale
If an item is displayed here, it is available for purchase. Sorry but I cannot accept hold requests unless full payment is received. Feel free to Email me at This email address is being protected from spambots. You need JavaScript enabled to view it., if you are interested.
---
Liebherr 9800 excavator  No. 42100
This is a great kit for the experienced builder. Has several motors and can be operated via the available phone app.
Photo coming soon  $500.
---
Creator - Merry-Go-Round  No. 10257
Model has been built a couple of times, and is in good condition. Missing a few parts, but includes  assembly book and figures. Photo coming. Model has been retired by LEGO. 
Price AU$350.00 for pickup in Dover Gardens, Adelaide. Can be posted disassembled to an Australian address at purchaser's cost.
---
Update - All bulk Lego and sets except those above have been sold.